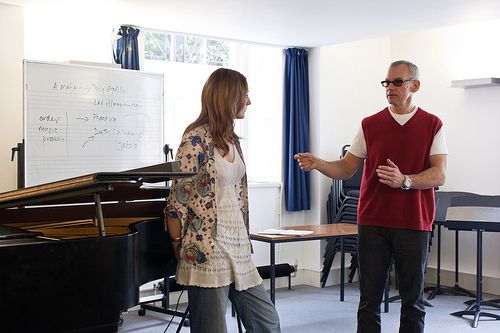 While his career has focused on performing/touring and recording, Laurence's ties to teaching are lifelong and originate in his family. His father, Burnet Hobgood, was an acclaimed educator in the college theater, perhaps best known as the creator/designer of the still renowned theater program at Southern Methodist University in Dallas, TX. Laurence's exposure to his dad's dynamic style of rehearsing and teaching left a permanent imprint; of particular interest is the ultra-literate, verbally expressive nature of the theater world which stands in (frequently stark) contrast to the "if you have to ask I can't tell you" syndrome that's unfortunately all too prevalent in the jazz world. 
Make no mistake: all learning is self-learning, self-realizing. Teachers are simply guides in this process, ideally wise stewards of knowledge who see themselves as being further down the same path the student has chosen. 
That said, there's an unfortunate human tendency to conflate that which one is unable to do -- or express -- with that which cannot be done -- or expressed. The fact is that there's no shortage of well-intentioned, genius-level musicians -- particularly specialists in improvisation, i.e. jazz musicians -- who simply lack expansive verbal skills and therefore make the mistake of thinking there are certain ideas and concepts which just can't be expressed with words. 
Understanding the very nature of teaching reveals the extreme oversimplification that this attitude personifies. As stated, ultimately any true learning involves an internal exercise in absorption of new ideas. As such, teachers are sort of mystical internal button-pushers; finding the right formulae to allow the student to experience those "light bulb" moments that lead to real learning is an art form unto itself. 
The old meme "you can't tell someone how to ride a bicycle" -- meaning no amount of verbal description can adequately prepare someone to ride a bike for the first time without making some physical/coordinative mistakes -- comes readily to mind. Of course there's a certain truth to the saying, but it's a highly simplistic, superficial truth. If proffered mindfully there are undoubtedly valuable insights one could share with a novice bicyclist that would stand a good chance of making the experience, once undertaken, a bit less daunting, less alien. 
The same is true with music, especially improvised music, where a major component of the learning challenge is to be able to construct one's own content. When communicated effectively guiding concepts, dependable strategies, "tiered" priorities and objective factual information offer major assistance to the student in their quest to unravel what is a highly complex system -- and can additionally shape this process to lead to individualized style and coherence. 
This is the philosophy Laurence brings to all his teaching.
photo: London School of Jazz