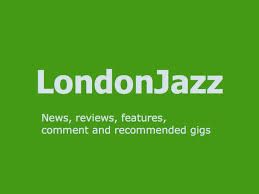 Laurence Hobgood – tesseterra 
(Ubuntu Music UBU0019. CD review by Mike Collins) 
Laurence Hobgood may be best known to many people for his nearly 20-year collaboration with Kurt Elling. His playing, arranging and MD'ing for the vocal master garnered awards a-plenty. tesseterra is pure Hobgood. Recorded with his regular trio of drummer Jared Schonig and bass player Matthew Clohesy, and the string quartet ETHEL, it delivers Hobgood's arrangements of seven classic and standard tunes, mining country, pop, jazz and hymns for material. 
There are a lot of layers to this set, Hobgood's arranging and approach to blending and weaving together the palette of sounds is a very significant one. It's his playing and improvising with the trio, at the core of this album, that grabbed my attention however and made the heart leap. Whether it's dropping into a spacious, rocking groove to etch out the melody of Wichita Lineman, the bustling momentum of the drums giving the reflective reading of Blackbird wings, or a straight ahead propulsive swing on All of You, there's a clarity and crispness to the time feel and choice of harmony that's arresting. 
And Hobgood is a joyful, fluent, melodic improviser. Ideas flow into each other and are developed, connected by arcing lines or beautifully judged use of space, lighting up the most familiar of material; Georgia on My Mind, We Shall Overcome, and Sting's Everything She Does is Magic all get a reading. 
There is an animating concept at work in the arrangements. The string quartet is not just decoration. Hobgood has written little preludes that develop artfully into the tunes; textures are woven throughout with scripted, sometimes acerbic interjections by the strings; on All of You he has them exchanging fours with the piano. It gives the overall sound a more formal air, a deliberate blending of two approaches to music making adding depth and drama to arrangements. 
What kept bringing me back to listen however, was the emotion and lyricism in Hobgood's playing. That combined with the creative arranging and fine playing of the ensemble make this a release well worth seeking out. 
ETHEL are Kip Jones and Corin Lee – violin, Ralph Farris – viola, Dorothy Lawson – cello. 
Mike Collins is a pianist and writer based in Bath, who runs the jazzyblogman site. Twitter @jazzyblogman 
RELATED 
CD REVIEW: Laurence Hobgood Trio with John Patitucci and Kendrick Scott - Honor Thy Fathers 
INTERVIEW: Laurence Hobgood (UK and France tour dates April 4-13) 
PREVIEW/ INTERVIEW: Barb Jungr/ Laurence Hobgood. CD Shelter From The Storm and UK Tour Dates 16 Mar-5 Apr