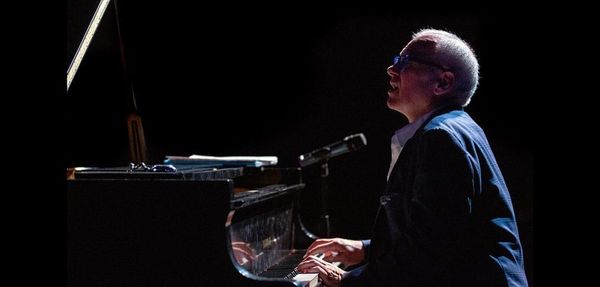 Because Every Note Counts… Laurence Hobgood Trio at the Kahilu 
BY STEVE ROBY ON APRIL 8, 2019
Grammy-winning Jazz pianist Laurence Hobgood and his amazing trio — Jared Schonig, drums, and Matthew Clohesy, bass — made their Kahilu Theatre debut last Sunday, and the music is still playing in my head. Jazz is a rare commodity here on the island, and we have the Theatre's Artistic Director Chuck Gessert to thank for bringing in not only Hobgood, but the Harold López-Nussa Trio this season. 
In his intro, Gessert explained his connection to Hobgood from his college years when he heard him regularly play at a tiny Urbana, Illinois, club called Nature's Table. Hobgood is well-known for his recordings with singer Kurt Elling, with whom he worked extensively from 1995 to 2013.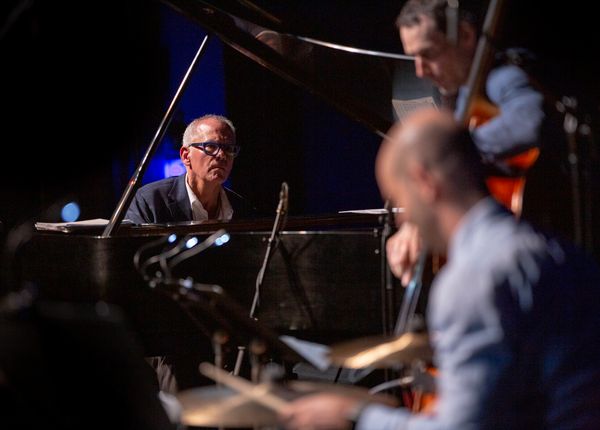 Sunday's setlist focused on Hobgood's most recent CD Honor Thy Fathers. The music honors many influences in Hobgood's life and career (teachers and jazz heroes), including "Sanctuary" was written and dedicated to his father. Nat King Cole's 1943 hit "Straighten Up and Fly Right" got special treatment. Played in 7:4 time, Hobgood reframed the boogie-woogie tune with numerous jazz elements. 
Hobgood also featured a few songs from his upcoming release t e s s e t e r r a (out April 26). The new album was arranged for his current trio and a string quartet. Hobgood said the album spotlights iconic songs, not necessarily jazz songs, but songs that deserve jazz treatments. The new recording will cover Cole Porter, Stevie Wonder, the Gershwins, Sting, Joni Mitchell, Michel Legrand, and Antonio Carlos Jobim, among others. 
I got lost in Hobgood's dreamy arrangement of Glen Campbell's 1968 hit "Wichita Lineman," written by the great Jimmy Webb. The outro, "…still on the line," swerved, tumbled, before making a gentle landing as the final notes escaped from that sweet-sounding Yamaha piano. It's one of those tunes you want playing in the car as you're making that scenic drive out to Hawi – a soaring soundtrack that matches the breathtaking landscape! 
Hobgood talked about his father's gift of his first jazz record at 15, Oscar Peterson's 1970 album, Tracks. Up until that point, the young pianist was playing blues and classical music, first in Dallas, before moving to Urbana. Hobgood updated Peterson's recording of "Give Me the Simple Life," giving his drummer, Jared Schonig, the opportunity cut loose several times.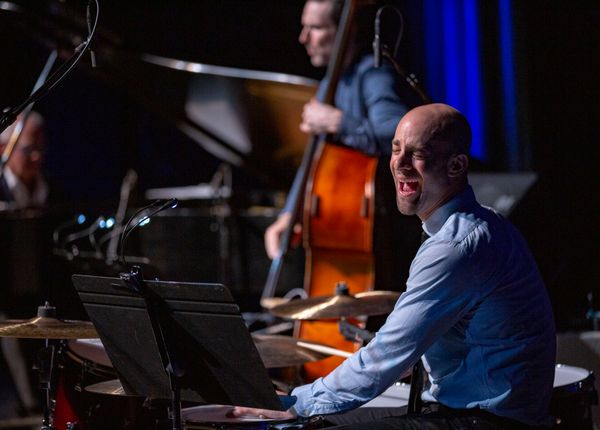 Jared Schonig 
Like Hobgood, Schonig is also a Grammy winner. It was a thrill to watch him play on "If It's Magic." Using mallets, brushes, drumsticks, and even his fingers, Schonig summoned a variety of unusual sounds from his kit – a brand new set of Yamaha drums the Theatre recently purchased, and unboxed for this performance!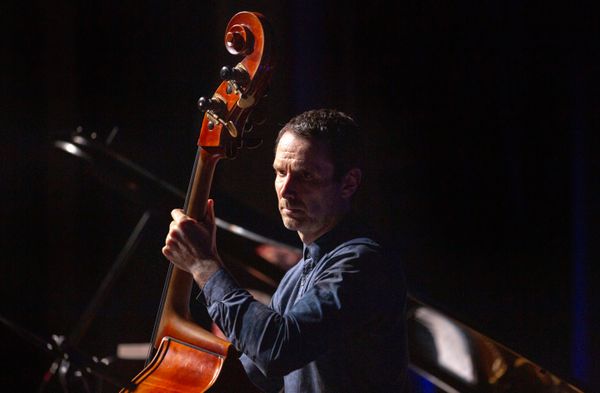 Matthew Clohesy 
Rounding out the Hobgood Trio is bassist Matthew Clohesy. He's formerly from Melbourne and now calls New York City home. "Shirákumo No Michi (White Cloud Way)," featured several furious solos in the middle. The song shifts time signatures rapidly, but Clohesy kept a steady bottom pulse on his upright bass. This is another tune found on Honor Thy Fathers, which Hobgood dedicated to saxophonist Wayne Shorter, whom he calls "The reigning Bodhisattva of the jazz world." 
Hobgood and band ended with an outtake that didn't appear on the Honor Thy Fathers album: "Poinciara." In his commentary, Hobgood said his arrangement was a tribute to piano giant Ahmad Jamal's version. Toward the end, Laurence reached into the piano to mute strings, for nuanced notes. There was a standing ovation and cries for a Hana Hou, but the trio returned to the stage only to take a bow. An informal meet-and-greet followed in the lobby, where fans had CDs signed, and questions answered.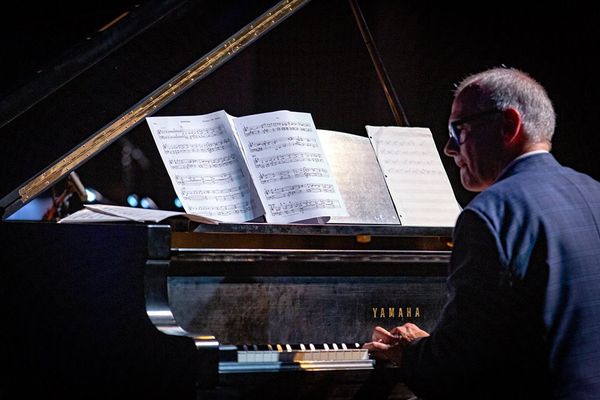 Hobgood will be touring Australia in July, joined by Big Island's vocal artist Rhiannon. She and Hobgood collaborated on a 2018 performance called The Two of Us at Richard Russell's Jazz Barn in Hawi. 
Hobgood said he hopes to follow Tessatera, with Honor Thy Mothers, paying tribute to the many musical "mothers" who influenced him! 
Mahalo to Paul Buckley, the Theatre's Technical Director for the awesome sound at this concert. While we have a small, but emerging jazz scene here on the Big Island, I'd like to say thanks to Richard Russell, Jesse Snyder, Bub Pratt, Amy Lee, Gary Washington, Brian McCree, and many others for keeping jazz alive here. 
Setlist 
Sanctuary | Straighten Up and Fly Right | Wichita Lineman | Give Me The Simple Life | Shirákumo No Michi (White Cloud Way) | Black Bird | Que Será, Será (Whatever Will Be, Will Be) |If It's Magic | Poinciara 
Keep up with Laurence Hobgood's busy tour schedule, music, and more via his website: https://laurencehobgood.com/home 
Steve Roby is a music journalist, best-selling author, and originally from San Francisco. He's been featured in the NY Times, Rolling Stone, and Billboard Magazine. Roby is also the Managing Editor of Big Island Music Magazine. 
Photos: Steve Roby