Dec 3, 2018 | Howard Reich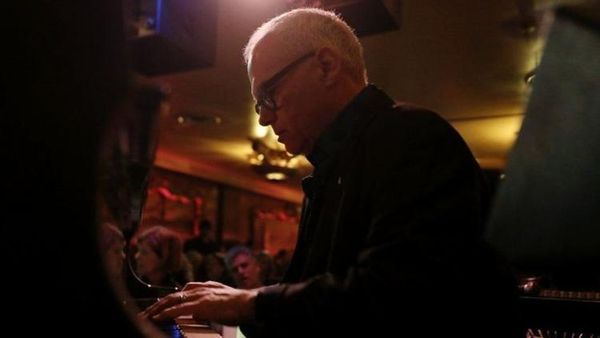 Thirty years ago, a little-known pianist from Champaign-Urbana moved to Chicago and quickly aced a standing engagement in one of the city's top jazz rooms, the Green Mill. 
Since then, Laurence Hobgood has built a formidable reputation as a double-threat keyboard virtuoso and Grammy-winning arranger. 
So when Hobgood celebrates his 30th anniversary at the Mill this weekend, he'll have cause to feel a bit nostalgic about how much has transpired since those early days. 
Back then, "Like anybody else, I was hoping to at least get on the radar and make a name for myself of some kind, whatever that means," says the pianist. 
He decided to start by dropping in at the Mill, where saxophonist Barry Winograd was leading the late-night Friday jam session. When the evening's pianist was late in getting to show, Winograd invited Hobgood to take his shot. 
"At the end of the gig, Barry and (bassist) Steve Hashimoto said: 'Hey, do you want to do this gig every week?'" remembers Hobgood. 
"So I had a steady at the Mill, and I'd only lived in Chicago for three days." 
Anyone who has heard Hobgood – even back then – would not be surprised by that offer, even if the pianist himself was. For the fluidity, tonal sheen and narrative arc of Hobgood's pianism long has set him apart from contemporaries, his work only deepening through the decades. 
Of all the subsequent residences he held at the Mill before moving to New York, in 2006, none has been more important to him than his tenure in former Chicago saxophonist Ed Petersen's Monday night band. 
"Ed's book was so challenging, and that music was so hard," says Hobgood, who also accompanied singer Kurt Elling's appearances at the Mill in the late 1990s and early 2000s. 
"If there were 8 to 10 crazy hard pieces that we were focusing on, you'd think that at least you'd have another chance next Monday to try to do better. 
"But that wasn't the way Ed ran the gig. He might call a tune that was hard to play, and he might not call it for another six months. That band just ratcheted up our standard for what was conceivably possible in terms of complexity. Like playing a piece that's 11 pages long with almost impossible chord changes and odd phrase lengths." 
At one point, Hobgood rebelled. 
"We had played this tune before, and it had been a frustration before," remembers Hobgood. "This one particular time we played it, about a chorus-and-half into my solo, I just basically said: To hell with it, and I totally went off script. I stopped looking at the paper. … I was just playing whatever. 
"And at the end of the tune, Ed got on the mic and said: 'Wow, I don't think I've ever heard anybody butcher my chord changes quite like that.' 
"And then he goes: 'The thing is, I totally dug it.'" 
That's the effect Hobgood's work tends to have on listeners, even the most demanding of them: It sweeps you along on the journey, whether you intend to go or not. 
One other Green Mill memory holds a large place in Hobgood's life: The night in fall of 2015 when he proposed to actor-singer-dancer Ariane Reinhart. 
"The main thing is that I succeeded in completely surprising her, and if you know my wife, you know that that's very difficult to do," says Hobgood, who'll lead a quintet during this weekend's appearances. 
"But there was absolutely no way – in her mind – that I was going to do that there, because of the way I get when I'm in the middle of a weekend like that – there's nothing but the music. 
"It was really magical. I pretended to drop something on the ground, so that it got me on my knees. And I came up with the ring, and she was completely flabbergasted. The club was packed, as it gets, people standing. 
"So nobody, except for the people standing right by us, saw it happen. But after I stood up and we were hugging and she was crying, and I was probably crying a little bit, it took less than a minute for the whole place to erupt into an ovation. It just spread like wildfire: 'Laurence asked Ariane to marry him.'" 
Only at the Mill. 
Howard Reich is a Tribune critic.
hreich@chicagotribune.com
Twitter @howardreich