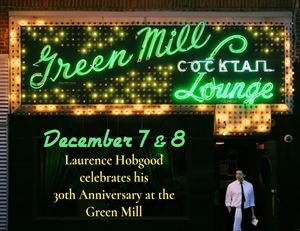 Still a bit dizzying for me to conceive — or even believe: in a couple weeks I'll be playing, with my quintet, my 30th anniversary weekend at my jazz home, the Green Mill in Chicago. Thirty years. 
I suppose I could go for a sensational/poetic tone and say, "where did the time go?" But that would be trite and even a bit fatuous; I'm fully aware of where the time "went" and where I've gone with it. Still, considered in a single "backward glance", it's both pleasantly jolting and somewhat daunting. Mostly it conjures fun memories (especially if I choose to view them objectively) and a gratifying sense of successfully prosecuting (at least so far) the absorbing, non-mainstream life of an artist. 
"The Mill," as inside frequenters (and I mean frequent) call it, has huge symbolism for me, largely because of how quickly it entered my life after moving to Chicago in September of 1988. 
I remember moving up, with my sister's help, from Champaign/Urbana on a Tuesday. My strategy for approaching the Chicago jazz scene had as a key component going to as many jam sessions as possible and one of the main, locally famous ones was at the Mill — starting quite late after the "prime time" bands wrapped up (Fridays between 1/1:30am, Saturdays between 12/12:30am since the first band started earlier on Saturday.) So the very first Friday — three days after moving into my small Lakeview apartment — found me at the Mill introducing myself to Barry Winograd who ran the session. Barry was nice to say he'd heard my name and then explained how the house band began with a couple tunes and then people started getting called 
up to sit in, so "be a little patient but we'll definitely get you up." 
Then, just before the band was set to begin, he came up to me and said that the pianist who was slated to start was late coming from an earlier gig and could I jump in right away? I agreed and, short version, a few hours later Barry asked me to join the band (turned out the piano chair was open.) Of course I agreed and, delighted, found that after living in Chicago for less than a week I had a "steady" at the Green Mill! 
That was thirty years ago. It's really saying something about the place that, with all the travel I've done, all the places I've played, nothing equals "the Mill." It's home.
Green Mill 30th Anniversary Shows
The Green Mill
4802 North Broadway Street
Chicago, IL  map